Home & Garden Landscapes has transformed many historic properties with the period correct  restorations and renovations. Far too frequently, historic homes are restored without thought to vintage garden preservation or heritage landscapes. Most often,the gardens and landcapes are an after-thought and planted with plants not suited to the historic preservation effort. We are adept at working with historic properties to ensure the landscape and gardens are complementary and true to period.
---
Historic 1885 Queen Anne Mansion Landscape Restoration
Wilmington, North Carolina
This historic Queen Anne Mansion landscape was restored with peroid plantings as well as appropriate newer landscape introductions which compliment the historical period in which this house was constructed. Plants used include Loquat, Cabbage Palmetto, Lace Leaf Japanese Maple, Gardenia, Pindo Palms, Canary Island Date Palms, and Fig.
---
Liberty Hall Plantation
Kenansville, North Carolina
This Southern plantation home was constructed int he late 1700's and recently restored. It is currently an historical museum. The restoration landscaping was an after-thought and consisted of plants not historically accurate and did not complement the exterior of the home. We researched the plants that were used in that period and most complemented the historical look and feel of this fine southern mansion. Many of the plantings we used included original heirloom cultivars as part of the vintage garden preservation. Many of the original cultivars are rare and difficult to locate. However, we found certain nurseries and farms that still had some of the desired plants available.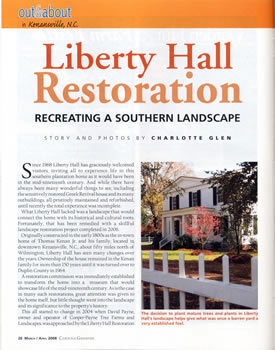 Liberty Hall News
Have you ever wondered how people landscaped their houses 100-200 years ago here in the South? Many of us assume that the majority of plants in North Carolina are indigenous to the Piedmont Region and that houses that survived the Civil War and Antebellum periods naturally have landscapes that still reflect those eras' horticultural design. Unfortunately while this is sometimes the case, for the most part, much of the history in horticultural landscaping over the past 150 years has been lost or transformed – far more than you'd think. David Payne, owner and operator of Cooper-Payne Tree Farms, has discovered in the last 5 years of his business how much has survived from those periods. Through many of his various projects and his extensive Payne relishes in any opportunity to restore the landscape to that which would match the history of the house and its area. Payne, an experienced horticulturalist, specializing in cold hardy palms, specimen trees and desert plants, restored his own heritage home (Bell House – featured on HGTV) in Wilmington 5 years ago. Payne holds two university degrees, one of which is a double major in US and British History. Needless to say – during this time, Payne realized he could combine his passions: history, landscaping and creative design all into one. When asked to do the gardens at Liberty Hall, a recently restored building which now serves as a historical museum in Kenansville, NC Payne jumped at the opportunity. Located on the North Carolina Coastal Plain – an area known for being part of the cotton belt – in years past, Liberty Hall's gardens presented Payne with the challenge of restoring plants and trees that would reflect its historical period as well as keeping to a budget that this non-profit organization could afford. This plantation house, which is over 200 years old had trees and bushes that could be considered "non-period" such as holly bushes. Payne's initial impression was that this site was a combination of surviving plants and trees from earlier days and later introductions of materials. Due to hurricanes and other weather extremes, much of the original plantings were obliterated and many areas of the property were either improperly planted (using no links to the house's history) or completely devoid of plants. Payne noted that if he hadn't seen the occasional wisp of Spanish Moss he would never have known this house was located on the Southern Coastal Plain. The feel of the property tied the house more to a Northern Virginia landscape and Payne set about in creating a new theme, a genre of plantings, which would tie the house and the landscape all together historically, culturally and geographically. The challenges that were most apparent with this property lay in the fact that from the early 1800's until today, much has come and gone in terms of what was used in the early Southern landscapes. Most Southern landscapes were functional rather than decorative – reflecting the function of the business the house operated as. As a result, many landscapes were devoid of plants or consisted primarily of native plants. What many people in the South don't know is that Southern Coastal Plain Gardening was revolutionized by a French horticulturalist Michaux. Importing a variety of plants from the Orient, Michaux introduced such Southern favorites as Crape Myrtle, Gardenia, Camellia and many more. These plants became so popular that they were adapted to the coastal regions of Texas to Southeastern Virginia. Southern plantation homes embraced these new introductions quite quickly and they have formed the backbone of Southern landscapes for well over 100 years. These plants, which are considered "Southern heirloom" plants, have since become a mainstay in the horticultural identity of the South. Using this knowledge, Payne decided to create a theme that would incorporate a combination of certain native plantings with plants that have been introduced over the past 125 years – with a predisposition towards Michaux's Southern Heirloom plants as a means of creating a stronger Southern identity for Liberty Hall's landscape. Removing the existing "non-period" holly bushes and reusing trees that had a sense of age to them, Payne chose larger plantings, (Southern Magnolias, Dogwood, China Fir, Live Oak, Eastern Red Cedar,) as they would convey a sense of "having been there" for a long time. Strategically placing trees and shrubs (Gardenia, Camellia, Azalea and Dwarf Palmetto for year-round color, fragrance and longevity, Payne set about redesigning the front and side gardens of this magnificent historical house.