Complement Your Landscapes with Hardscapes
Incorporating hardscapes into your outdoor areas allow the creation and enjoyment of outdoor living areas that may include walls, terraces, pathways and patios, thereby creating separate "rooms."
This poolside pergola and patio was designed to provide an outdoor living and play area.

This patio and pergola helps soften the summer sun, allowing for relaxed outdoor dining.

By incorporating outdoor living spaces with landscaping, including this English-built birdhouse, this backyard retreat provides endless hours of enjoyment.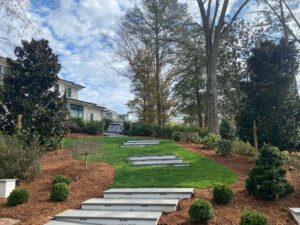 This stairway was designed and installed to create a street entrance that carries through the landscape to the front of the house. This garden stairway was carefully designed to complement the home's architecture.